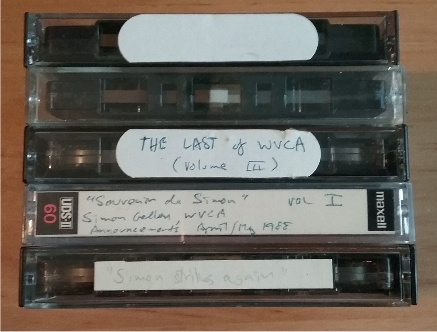 NEW CONTENT ADDED
August 2017


We recently received a generous donation (pictured above) filled with content of Simon Geller during his last days at WVCA-FM.
In early August we again found ourselves converting, editting, and processing, and the final product is pretty sweet.
We've added 34 individual clips to the WVCA-FM programming. The clips generally consist of station id's, contribution announcements, and commercials. These clips will play in between each program, which typically run about 6 hours. We'd say this is about as close to the real deal as we could have ever hoped for.
We also have interview material and the last signoff of the station - those will be posted to the Aircheck section of wvca.com in the days ahead.
---
MY STATION IN LIFE
June 2017

A reading of a new play by Kenneth Riaf
Sunday, July 30, 2017 - 7:30pm - ONE SHOW ONLY
FREE - No reservations required
What's the difference between selling and selling out? From the rubble of his studio dungeon Simon Geller, the last standing single-handed radio operator in the country, broadcasts commercial free classical music from Gloucester - the town that loves and endures his peculiar presence. A recluse who speaks to thousands daily while sawing off the limb he's out on.
Ken Baltin of the Boston Conservatory at Berklee will read the part of Simon Geller.
More detail on the upcoming reading can be read about in Northshore magazine's article: Gloucester Stage Company's NeverDark Series Presents "My Station in Life"
---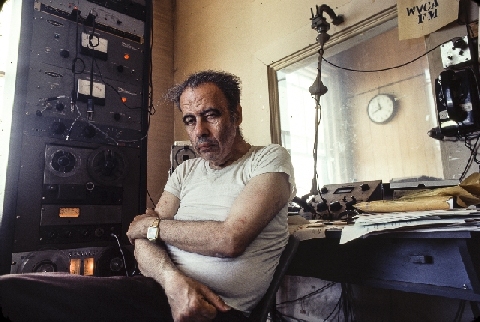 Simon Geller -
Photo Credit: Nathan Benn
KODACHROME MEMORY
November 2016
Simon Geller will be featured as part of a special exhibition of photographs taken in and around Cape Ann in 1978 by Nathan Benn. It will feature more than 30 images taken by Benn while on assignment on Boston's North Shore for National Geographic Magazine.

The exhibit will be on display at the Cape Ann Museum December 27th through February 19th. For more information click here.
---
WVCA.COM
February 2016
After many months of hard work WVCA.COM made it's official debut on Valentine's Day, 2016; bringing the sounds of WVCA-FM and Simon Geller back to life.
To read more about the project click here.